RAWHIDE RANCH FLY FISHING
EXPLORE THE RAWHIDE RANCH AND FIND TROUT FLY FISHING HEAVEN
The North Fork of the South Platte River is home to some of the best fly fishing waters around, and Rawhide Flyfishers is a true haven for anglers. Not only does it offer excellent fishing in a pristine restored stream, but Rawhide Flyfishers also features the beauty of the Rocky Mountains as the perfect backdrop for a memorable day of fly fishing. This is also one of our new favorite destinations at North Fork Ranch Guide Service.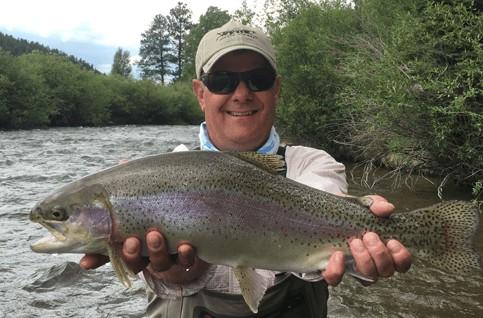 Full Day Guide Trip:
1 Angler $740
2 Anglers $1105
3 Anglers: $1570
Half Day Guide Trip:
1 Angler $550
2 Anglers $795
3 Anglers: $1200
The sparkling, clear waters flowing along the North Fork of the South Platte are supplemented by water coming from the other side of the Continental Divide by way of the Roberts Tunnel. The merging of these two waters creates a perfect environment for trout. Gentle curves make wading easy, while numerous oxbow curves, cut banks, and challenging pocket water mean that you'll be able to find an ideal spot to cast, no matter what your level of experience. And, since Rawhide Flyfishers is private land, you'll be treated to an undisturbed day on the waters, away from crowds and noise. Of course, it's always best to schedule your trip with one of our guides at North Fork Ranch Guide Services sooner than later. Since the number of anglers is limited, spots fill up fast.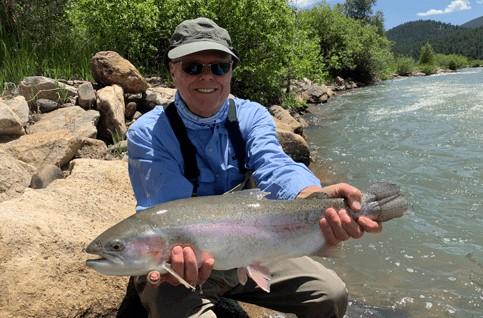 What Can You Catch on the Private Waters of Rawhide Flyfishers?
The gorgeous stream at Rawhide Flyfishers is home to both rainbow and brown trout. Not only are they numerous, but we've even seen them grow up to 24 inches! We've been especially pleased with our success during hopper season. The trout here are particularly susceptible to dry fly fishing, and much of this private stretch of water is perfect for casting. What's more, the wide range of water features and conditions here mean great fly fishing for everyone from beginners to seasoned fly fishing enthusiasts. And, since this stretch of the South Platte is home to so many large trout, you're likely to get the catch of a lifetime. We understand if you find yourself planning your return to Rawhide Flyfishers before the first visit ends. That seems to happen a lot when fishing with North Fork Ranch Guide Services.
This private fly fishing ranch is accessible only with a fly fishing guide, and access is subject to availability. Of course, a guide from North Fork Ranch will be an invaluable help with profound knowledge of every inch of water on this property. With help from one of our guides, you're certain to hone your angling skills, find the best water and spot the biggest fish. Both full-day and half-day trips are available. They include just about everything you'll need, including flies. A full-day trip also includes lunch. Get in touch with us to schedule your next day of fly fishing at Rawhide Flyfishers. We think it just might become one of your new favorite Colorado fly fishing spots.
READY TO BOOK YOUR TRIP? REACH OUT TO US TODAY!