North Fork Ranch Guide Service is Colorado's Premier Private Water Fly Fishing Outfitter
Welcome to North Fork Ranch Guide Service. Our mission is to ensure the ideal fly fishing experience for our clients by continuing to develop our unique guide culture through leadership and mentorship while managing our fisheries for the best fly fishing opportunities.
The North Fork Ranch Guide Service was established in 1996 by Kevin Gregory; the initial goal of the guide service was to entertain guests of the North Fork Ranch on the water, though we eventually began accepting day anglers as well as lodging guests. As fly fishing grew in popularity, more and more guests decided to give fly fishing a try, and the popularity of the North Fork Ranch Guide Service quickly became something of legend. Thanks to dedicated management practices on our various fisheries, we are pleased to offer a world-class fly fishing experience only an hour from Denver, where every day a fisherman has an excellent chance to land that "fish of a lifetime".
THE NORTH FORK RANCH GUIDE SERVICE VISION
As our business has grown over the years, the operations of the North Fork Ranch Guide Service have shifted, but our vision has remained steadfast. Our number one goal is to ALWAYS provide a well-rounded, custom-tailored fly fishing experience for our anglers. From our famous managed fisheries on the North Fork of the South Platte River to our picturesque Colorado dry-fly fisheries in South Park, we strive to accommodate anglers of all skill levels, abilities, and desires. Wherever our journey continues to take us, this vision will remain the same. NFRGS will continue to teach and grow our sport, hopefully catch a few fish (okay, maybe quite a few), and see each and every client leave with an ear-wide grin and memories to last a lifetime. There is nothing more rewarding to any of us than a happy client and a successful day!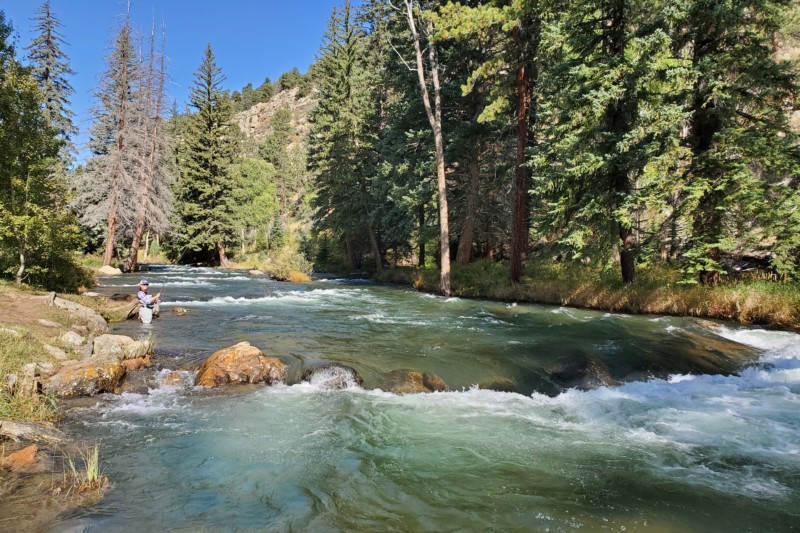 NORTH FORK RANCH, WELCOMING VISITORS SINCE 1985
North Fork Ranch Guide Service operates as the exclusive outfitter for the North Fork Ranch, and are fortunate to base our headquarters, guide shed, and meeting location out of North Fork Ranch.
The North Fork Ranch was opened in 1985 by the May family and operated as a Colorado Dude Ranch for over thirty years. With the increased traffic from fly fisherman and the decreased interest in dude ranching, the North Fork Ranch began the shift towards becoming a fishing lodge in the late 90s. Since then, the North Fork Ranch has become one of the most popular Orvis Endorsed Fly Fishing Lodges in the United States. Still offering all the fun 'dude ranch' activities in addition to the luxury fly fishing lodge experience, the North Fork Ranch has a relaxing and unique ambiance catered towards anglers and adventurers alike.