SHAWNEE MEADOWS FLY FISHING
FLY FISHING PRIVATE WATERS AT SHAWNEE MEADOWS
Shawnee Meadows offers guests access to 1.5 miles of the North Fork of the South Platte River upstream of Bailey, CO as well as a 6-acre lake teeming with big fish. This property was closed to commercial guiding until 2020, when extensive stream work and restoration was conducted to improve fish habitat and holding water. In the few years that Shawnee Meadows has been open to guiding, it has quickly become known as some of the best private water access on the entire North Fork of the South Platte.
Full Day Guide Trip:
1 Angler $740
2 Anglers $1105
3 Anglers: $1570
Half Day Guide Trip:
1 Angler $550
2 Anglers $795
3 Anglers: $1200
FLY FISHING WILLOW-LINED BANKS AT SHAWNEE MEADOWS
The river at Shawnee Meadows flows along a timbered hillside surrounded by several stunning Rocky Mountain peaks. Access to the property is directly off HWY 285 making for an easy drive, but you'll be hard pressed to notice the highway once surrounded by the willow-lined banks and peaceful river flow.
Shawnee Meadows' open layout and world-class fishing make it a prime location for large group events such as corporate trips and family gatherings. The property is split evenly into two sections- smaller groups can choose to reserve either the upper or lower section, while larger groups can reserve the entire property. Both sections of Shawnee Meadows feature some of the deepest pools and runs of any property on the North Fork, harboring both high numbers of fish and some fish of epic proportions! For anglers hoping to learn Stillwater fishing techniques or those wanting a change of pace after fishing the river, the lake at Shawnee Meadows is included at no additional cost and offers consistent action and opportunities at some very large Rainbow Trout. Many anglers end up enjoying fly fishing the lake as much or more than even fishing the river!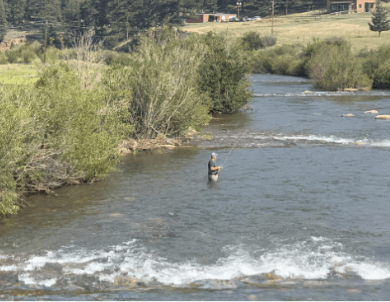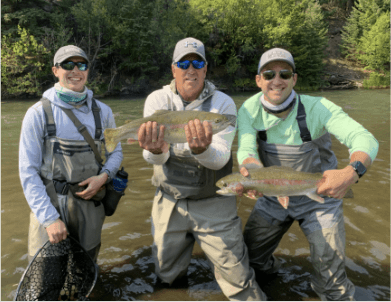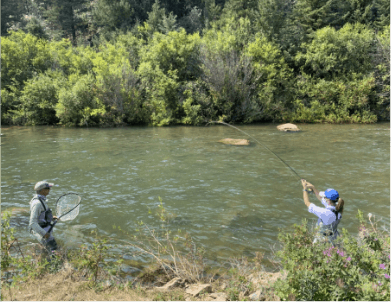 FLY FISHING LARGE RAINBOW TROUT AT SHAWNEE MEADOWS
Guests fly fishing at Shawnee Meadows can expect to fish a variety of nymph rigs and dry-dropper rigs, as well as streamers depending on conditions that day. Thanks to extensive management, Shawnee Meadows is home some of the largest Rainbow Trout found anywhere in the Lower 48, with the average fish ranging from 3-4 pounds and fish 6-8+ pounds hooked frequently. In addition, anglers fly fishing at Shawnee Meadows may encounter Brown Trout, Cutthroat Trout, Brook Trout, and Tiger Trout.
All full-day trips to Shawnee Meadows private fly fishing ranch include a gourmet lunch service back at our headquarters of North Fork Ranch. Please don't hesitate to reach out with any further questions about how we can custom-tailor the perfect fly fishing adventure for you and your group!
READY TO BOOK YOUR TRIP? REACH OUT TO US TODAY!