FLY FISHING TRIP INFORMATION
WHAT YOU NEED TO KNOW FOR YOUR UPCOMING TRIP
A Colorado fishing license is required to fish anywhere in Colorado. Please visit http://cpw.state.co.us/ to purchase a license. This can take a while so please have everyone do this prior to your arrival. For those that forget you can use the computer at the Ranch.
North Fork Ranch Guide Service is proud to provide all the latest Orvis fishing equipment for your day on the water. This includes a wide selection of waders and boots in men's, women's and youth sizing. This also includes rods and reels for both right and left handed anglers. Your guide will provide all flies and terminal tackle (leaders, tippet, weight, floatant, etc.). If you prefer to use your own equipment, that's ok too, please trust our guide's judgement on whether it is appropriate for the water you'll be fishing.
There are a few things we do want you to bring so you are as comfortable as possible while fishing. Warm socks while fishing our rivers are a must. The weather can change quickly in the mountains, so we recommend bringing a rain jacket and layers for warmth. We also recommend bringing a hat, sunscreen and sun glasses. Hydration is key when visiting Colorado and we are thrilled to be participating in the http://www.kickplastic.org/ campaign. If you have a favorite reusable water bottle please bring it. Otherwise we will provide reusable water bottles and water stations for your use.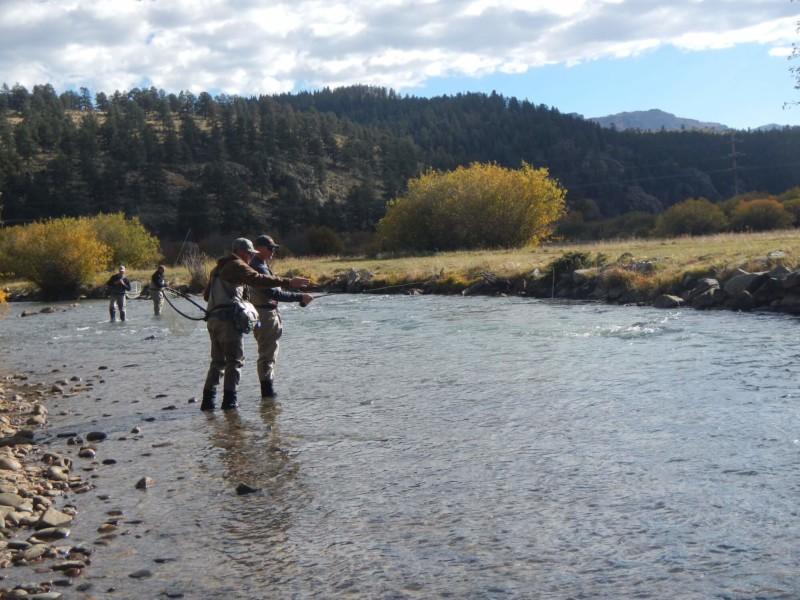 We want to keep everyone safe on the water. The guide service does not allow children under the age of 10 to fish our rivers. If anyone in your party has mobility concerns let us know in advance so we can accommodate. If your guide should be aware of a medical condition or special needs for anyone in your group, please let us know prior to your trip.
The section of Highway 285 from Denver to the North Fork Ranch is a hotspot for speed traps and we advise you to follow the speed limits as posted. If for any reason you are delayed, don't worry, we'll wait for you. Please call the North Fork Ranch to let us know at 303-838-9873.
Our properties are situated at high elevation. Please be altitude aware and listen to your body. Your energy levels may not be the same as they were at lower elevations. Your best defense is drinking plenty of water to stay hydrated.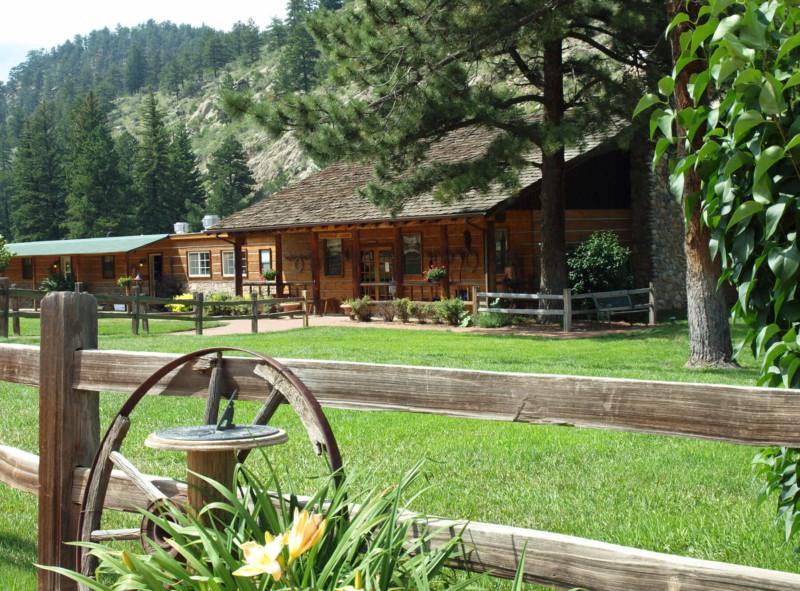 THINGS TO DO WHILE IN COLORADO
Upon completing your reservation you will receive an email with your meeting time and location. If you have any questions about where or when you are meeting, please contact the guide service. The morning of your trip your guide will discuss equipment needs and talk with you about specific plans for your day of fishing. Your guide will rig rods while you enjoy the comforts of Wildhorse Lodge. If you are fishing another property please have your vehicle ready so you can follow your guide to the property.
If you've booked a full day of fishing with us, no need to worry about packing a lunch. When fishing within the North Fork valley a catered lunch will be provided at Wildhorse Lodge at 12:30pm. When fishing at any of our South Park ranches a table service streamside lunch will be provided. Please let us know in advance of any dietary restrictions or food allergies within your group.
You'd be hard pressed to find a guide who doesn't enjoy an ice-cold beer while on the river. However, the safety of our guests and our guides is our highest priority. The consumption of alcohol, the use of marijuana and the use of other recreational drugs are NOT permitted when fishing with the North Fork Ranch Guide Service.
While we love dogs, they or any other pets are NOT allowed on any of the properties we guide. This includes leaving your dog or other pets in your car while you are on the properties. If you need doggie daycare recommendations or have questions regarding our pet policy, please call the guide service.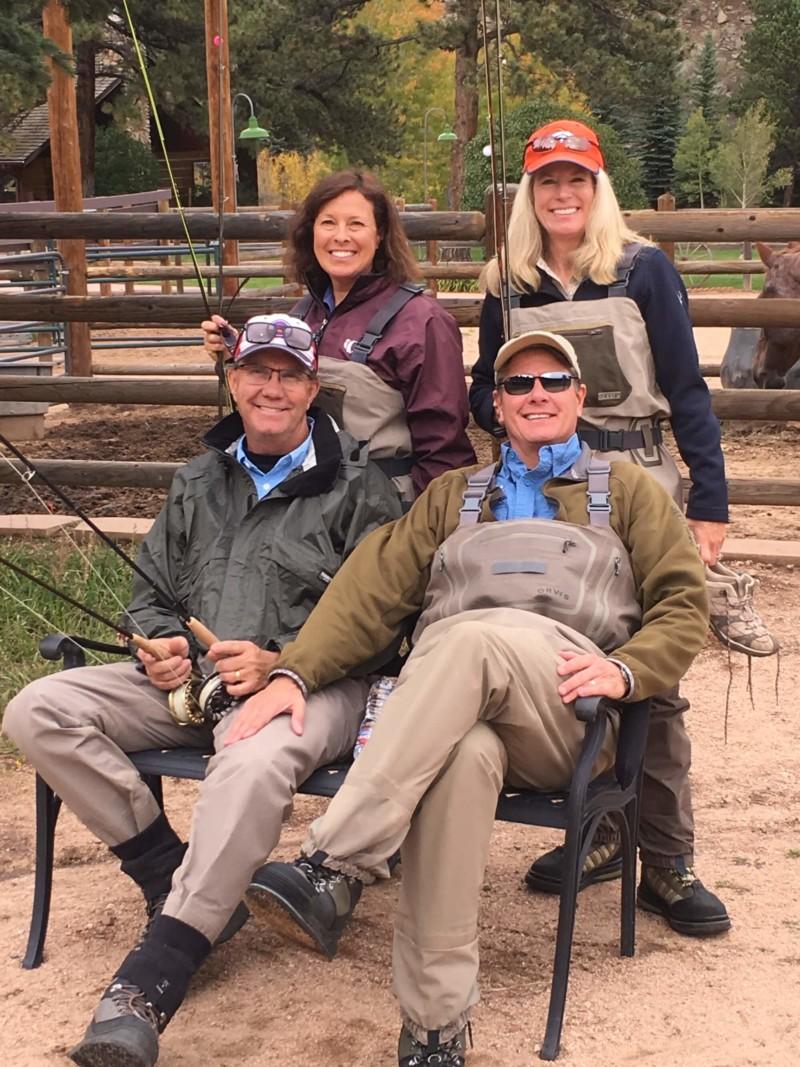 RESERVATION AND DEPOSIT: A 50% deposit is required to secure your reservation. The balance is due the day of your trip. There is a link at the top of this confirmation letter to access the online dashboard for your reservation. This is where you can make a secure credit card payment for your deposit. The reservation system will automatically run your card for the remaining balance on the day of your trip. If you want to use a different credit card for the balance, please contact the guide service prior to your trip. If you would like to split payment between members of your group, please contact the guide service.
If you plan to pay by check please mail to:
North Fork Ranch Guide Service
PO Box 186
Shawnee, CO, 80475
SUGGESTED GUIDE GRATUITY:
(based on guide fee not private water fees)
1-2 Angler full day trip:  $115 (20%) - $145 (25%) per guide per day
3 Angler full day trip:  $155 (20%) - $194 (25%) per guide per day
1-2 Angler half day trip:  $80 (20%) - $100 (25%) per guide per day
3 Angler half day trip:  $120 (20%) - $150 (25%) per guide per day
CANCELLATION POLICY: Deposits refunded less 10% up to 45 days prior to reservation. Deposits refunded less 50% between 45 and 30 days prior to reservation. No deposit refunded within 30 days of reservation. Rescheduled reservations prior to 30 days from original trip date will have full deposit applied to a new reservation. A full refund will be issued if the guide service cancels a reservation due to severe weather, unsafe road conditions, or river conditions.