FAMILY & FRIENDS FLY FISHING TRIPS
FAMILY FUN LIKE NEVER BEFORE WITH NORTH FORK RANCH GUIDE SERVICE
Few memories are as iconic and lasting as fishing with your father or grandfather, but did you know that fly fishing has become quite popular for entire families? From mothers and daughters to brothers and sisters, a guided fly fishing trip in the picturesque Colorado Rocky Mountains is hard to beat. We invite you to book your family's next vacation with us at North Fork Ranch Guide Service. Our expert fly fishing guides have been endorsed by Orvis, and we can provide everything you need for a great day of fishing with the whole family.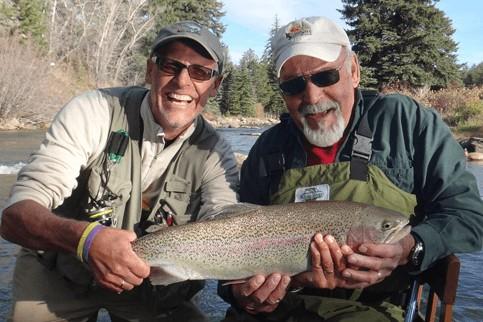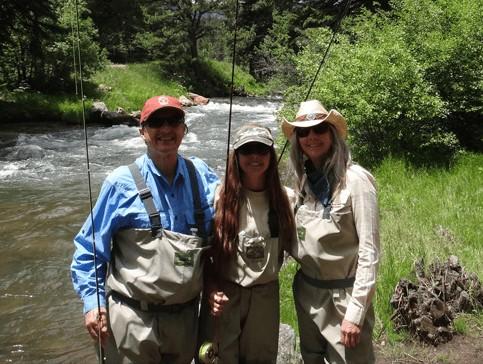 From seasoned veterans who have been casting a fly rod their entire lives to the youngest members of a family who are ready to be introduced to the wonder of fishing, we're here to help. Not only are we a first-rate fly fishing guide service in Colorado, we're also a Dude Ranch. That means a wide range of activities from alpine hikes to archery and even zip line tours. When you're not out enjoying activities, hang out in Wildhorse lodge, relax by the river with a glass of wine, or hit the water for more fishing. At the end of the day, we think you'll agree that a trip with North Fork Ranch Guide Services is a great way to spend quality time with your family and make lasting memories all while enjoying the great outdoors as only the Colorado Rocky Mountains can deliver.
FIND A NEW LOVE FOR THE OUTDOORS WITH THE ENTIRE FAMILY
Aside from great accommodations and the wide range of activities with which to keep everyone engaged, our fly fishing guides are among the best in the business. We love working with people of all ages no matter what level of experience they might have on the water. Our broad access to both public and private waters is unrivaled, and that means you'll be on some of the world's best fly fishing waters right here in the Colorado mountains. We'll help with your rigging, casting, and offer tips for skill levels.
We also offer dining with a gourmet flair including cookies fresh out of the oven, free wireless internet access, and a fresh cup of coffee with your snack. After all, spending time with your family is often best when someone else is taking care of all the daily chores. Book your next family vacation with us to enjoy guided fly fishing and so much more in the picturesque Colorado Rocky Mountains. We look forward to meeting and working with your family, and please contact us if you have any questions.