Winter: Rawhide Fly Fishers' deep runs provide fantastic holding water for fish during the Winter, and each drift through these runs ensures you're showing your flies to a lot of potential day-makers. Nymphing is by far the most common winter tactic at Rawhide, although fishing a streamer deep and slow can also be very productive later in the day once the water warms. The covered gazebos on all three sections of Rawhide provide a great place to take a break and warm the hands after wetting them for a photo-op.
Spring: Being the furthest downstream property on the North Fork of the South Platte that NFRGS guides, Rawhide Fly Fishers is often one of the first properties to open up in the Spring. Several tributaries between Shawnee and Bailey help break up ice dams early and get fish active; combine that with plenty of Sun that the property receives thanks to its open valley layout, and you've got some epic early Spring fly fishing! While this property receives slightly higher runoff conditions than its upstream neighbors of Shawnee Meadows and North Fork Ranch, extensive stream improvements have ensured that there is ample fishable water in even the highest runoff years. Nymphing a pair of sizable, brightly colored attractor patterns is a good bet when the water is off-color, but Rawhide is perhaps most coveted in the Spring for its red-hot streamer fishing action.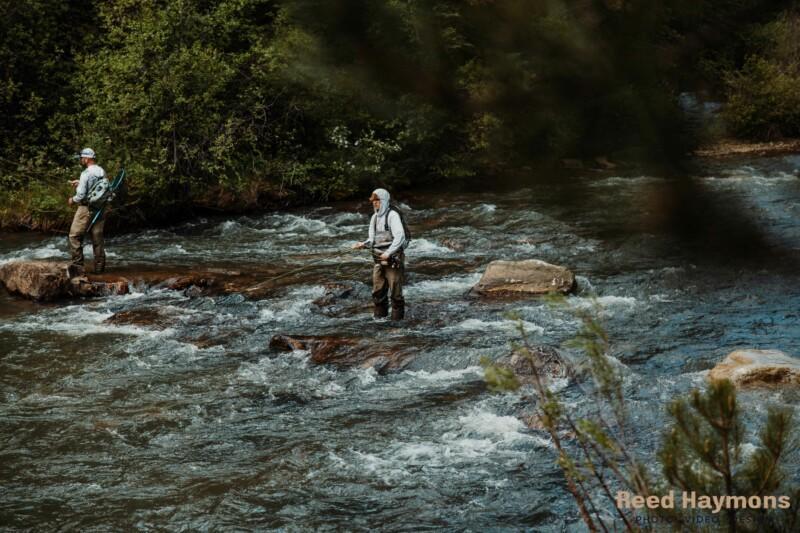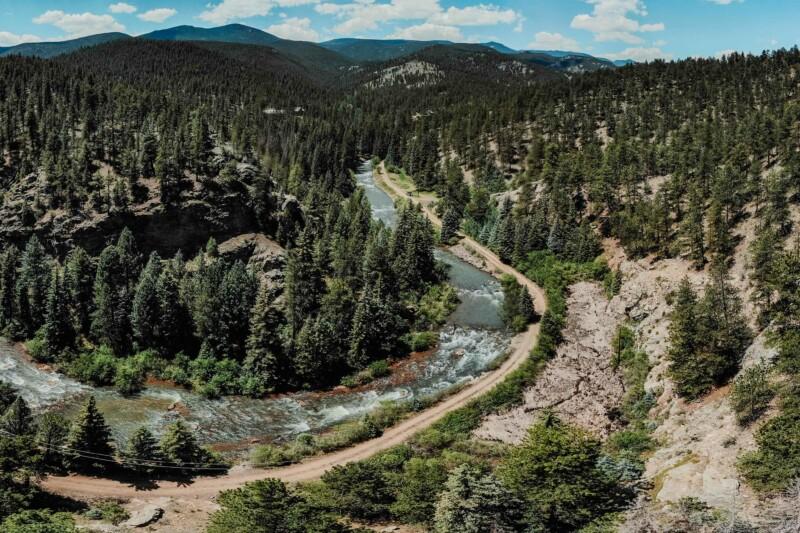 Summer: All three sections of Rawhide Fly Fishers shine during the Summer months. With well over two miles of total fishable water, anglers can choose between throwing dry flies, nymphs, streamers, or a combination of the three! While the picturesque runs are every bit as good as they look, don't be afraid to explore some of the smaller pockets and seams Rawhide Fly Fishers has to offer; fish here really spread out in the Summer, and some of the biggest fish are routinely found in easy-to-look-over spots. Anglers can expect beautiful Summer weather at Rawhide, with most days offering high sun and temps in the low to mid 70's. The combination of sun and additional flow from the tributaries feeding in above Rawhide helps improve bug life, so this section sees some of the better hatches the North Fork has to offer. If an afternoon shower happens to roll in, the covered gazebos provide an excellent spot to shelter and trade fishing stories with other members of the group for a bit until it's time to get back out. It's not uncommon to see a variety of wildlife here, including deer, elk, foxes, hawks and eagles, and plenty of resident marmots. Rawhide's remote, off-highway location makes it an ideal spot for folks coming from out of town to get a true Colorado ranch experience, and it is a fan favorite for Summer corporate fly fishing trips.
Fall: If giant rainbows in clear water amongst changing aspens and willows sounds enticing, you'll want to spend a day at Rawhide Fly Fishers in the Fall. As flows from the Roberts Tunnel begin to drop, anglers can access additional spots that are challenging to fish during peak season, especially in the upper reaches of the property. Ample sun exposure not only improves comfort for anglers, but also keeps the fish active well into the Fall and early Winter.