Winter: When flows allow, Shawnee Meadows is a fantastic place to spend a Winter day on the water. This stretch offers some of the deeper runs the North Fork, and fish really tend to congregate in these areas during the colder Winter months. Shawnee Meadows is also situated in a wide section of the North Fork Valley, meaning this property receives some of the most sun in the wintertime. This translates to happy, active fish as well as a more comfortable overall experience for Winter anglers. Nymphing is the most common tactic when winter fly fishing at Shawnee Meadows, although slow-stripping a streamer through the aforementioned deep runs can be a great way to fool a big fish into thinking they've found an easy meal as well.
‌Spring: Shawnee Meadows' runs are uniquely deep off of the banks, so when Spring runoff hits and flows rise, fish are often pushed right up to angler's feet making for easy casting and perfect high-sticking conditions. Stripping a streamer underneath willow bushes that become submerged in higher water can lead to some seriously aggressive takes from the giant rainbows lurking in Shawnee Meadows. Warm, sunny days are the norm here, although the covered gazebo provides great shelter should a late-Spring storm roll into the valley.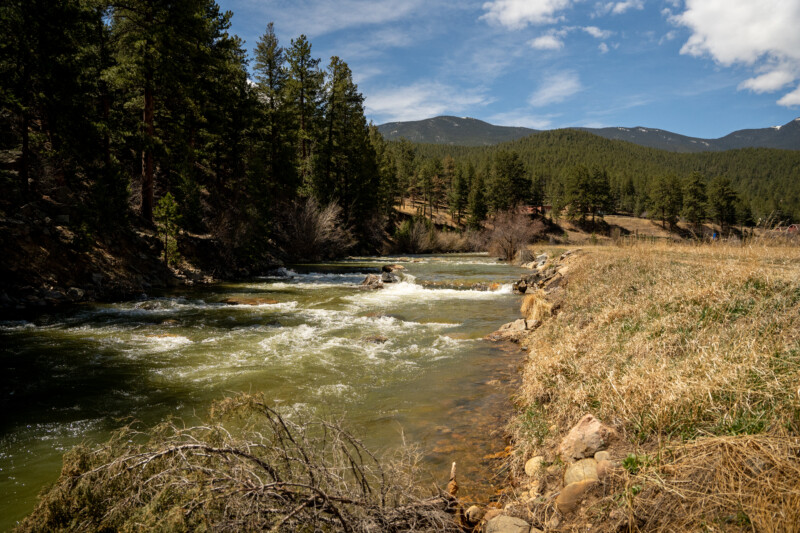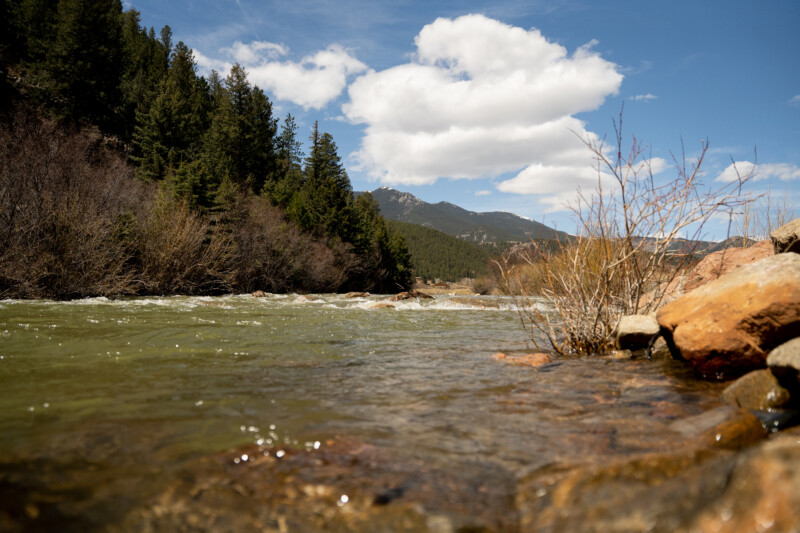 Summer: Experience one Summer day fly fishing Shawnee Meadows, and you'll understand why this property books out several months in advance. This section of the North Fork boasts ample water to throw dries, nymphs, and streamers, allowing us to tailor our trips here to anglers' preferences. For anglers looking to switch things up after a morning of fishing the river, Shawnee Meadows also includes a lake teeming with rainbows, some of which are big enough to show you your backing! Shawnee Meadows' long runs make for very approachable drifts and provide new anglers with a fantastic place to hone their skills. With well over a mile of fishable river as well as the lake, Shawnee Meadows is a favorite for hosting larger Summer gatherings such as corporate fly fishing trips and family get-togethers.
Fall: Fall is a great time to explore areas at Shawnee Meadows that are largely unreachable during periods of higher water, as lower flows allow anglers to wade further and occasionally even cross the river to access select drifts that can't otherwise be fished. While nymphing is still the best way to fish the deepest runs here, Fall is a great time to switch to a dry-dropper rig in many of the shallower flats, where fish will be suspended feeding and packing on weight before Winter hits. The Fall scenery at Shawnee Meadows only adds to the experience as well- large Aspen groves on the mountains surrounding Shawnee truly make for a sight to behold.