Greenback Cutthroat Trout Information
Greenback Cutthroat Information
The state fish of Colorado, the Greenback Cutthroat Trout, is the easternmost-dwelling of the 14 subspecies of cutthroat trout native to the United States, historically inhabiting the basins of the Arkansas and South Platte Rivers in Southeast Colorado. Thought to be extinct in 1937, a strain of Greenback Cutthroat were found in holding ponds by Fort Carson in Colorado Springs in the 1970s, and have since been reintroduced to a small percentage of their historical range. Although the original group of fish found at Fort Carson were later determined to possess a hybrid of Greenback and rainbow trout DNA, further genetically pure strains of Greenback were found in lakes near Pikes Peak and used to revive the population of these fish in the area. Although Greenbacks were among the group of species listed as endangered in the original Endangered Species Act of 1974, they have since been downgraded to threatened where they remain today. Although it is forbidden to fish for the genetically-pure strains of Greenback found in some creeks flowing from Pikes Peak, fishing for reintroduced Greenbacks in other parts of the state is a fun and very rewarding experience.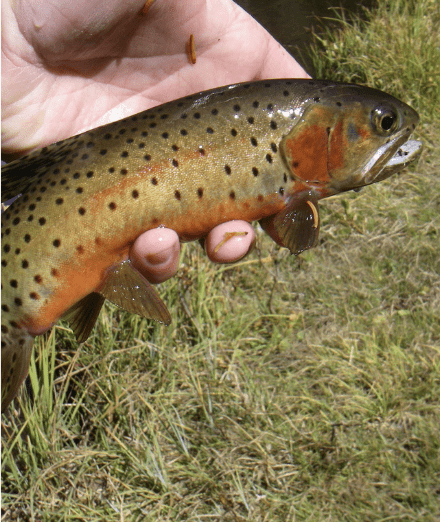 Size and Habitat
Like many other cutthroat stains in Colorado, Greenbacks typically inhabit small, cold and high alpine streams, and usually reach 8 to 14 inches of length when mature. Greenbacks as large as 18 inches have been recorded, and any fish of this species caught over 16 inches is certainly the fish of a lifetime. While fishing for the pure strain of Greenback around Pikes Peak in Colorado Springs is illegal in order to protect this strain of fish, many other lakes around Colorado have been stocked with reintroduced Greenback Cutthroat. The primary habitat for these fish are high alpine lakes, meaning that for most of the year Greenback Cutthroat will live under ice. Because of this, when the ice comes off and larger bugs begin to hatch and land on the water, these fish develop almost an insatiable appetite for as long as these conditions last. A lot of these lakes are quite remote and require a long and grueling hike to access, but if you are willing to put in the time and effort, you will find fish that see very little fishing pressure and are feeding ferociously.
Spawning Habits and How to Target Greenback
Greenback Cutthroat spawn in the spring like rainbow trout do, but due to the cold temperature of the water that they live in, the spawning season for Greenback is usually later in the spring. Because these fish are so rare and on the threatened species list, please avoid disturbing them if you notice any spawning habits occurring. Once the spawn is over, though, which is usually around the start of summer, these trout will return to their feisty eating habits. The best way to target these fish is with dry flies, as in alpine lakes cutthroat trout will patrol the lake's edge looking for insects that have fallen on the water. Small wet nymphs will also likely be productive. We wish you the best of luck in targeting this beautiful species of fish, and ask that you keep the conservation of these rare fish in mind when you find them.