What To Bring On Your Fly Fishing Trip With North Fork Ranch Guide Service
Preparing for your fly fishing trip can be a challenge -- but the preparation can also be an exciting part of your fly fishing adventure. Fishing with the North Fork Ranch Guide Service, you can rest assured that no matter what you pack (or forget to pack!) we will have you covered for all your equipment and clothing needs during your adventure with us. The North Fork Ranch is an Orvis Endorsed Fly Fishing Lodge and the guide service is a full-service outfitter that is equipped with all the latest gear from Orvis.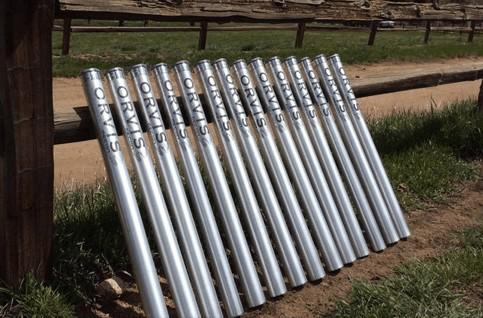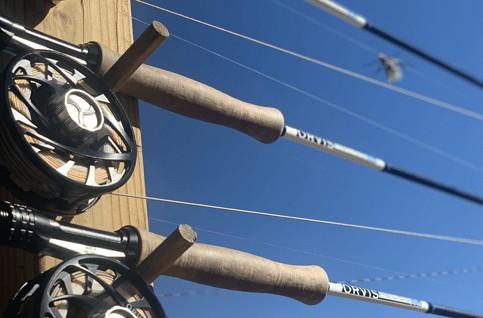 For those who would prefer to use your own equipment, the list below serves to help you prepare all of your equipment needs prior to your trip. If there's anything on the list you're lacking, the guide service shack is fully equipped with Orvis equipment that is in great condition. We supply waders and boots in all sizes, including women's and youth sizing. We also supply rods and reels for both right-handed and left-handed anglers. Guides supply all terminal tackle including flies. Just jump straight to the clothing section, and we can provide all the rest!
Equipment Checklist
--
Fly Rod, Reel & Line: A 5 weight or 6 weight rod is recommended on most of our properties. Floating line matching the weight of your fly rod is also recommended. For best results, a reel with a good drag system is a must.
Waders & Boots: Chest high waders are recommended. Waist high waders are adequate for most conditions. Boots can be either felt or rubber soled. Wading in most of our drainage is relatively easy.
Fishing Pack: Optional as guides are prepared to do all of your rigging. Leaders, tippet, flies, and all other terminal tackle is supplied by your guide.
Net: Optional as guides are prepared to net all fish.
Wading Staff: Optional and available from the guide service shack.
Hat: A wide-brim hat is recommended for sun and eye protection.
Waterproof Rain Jacket: Available from the guide service shack.
Polarized Sunglasses: Basic sunglasses are necessary for eye protection but polarized lenses help to reduce glare on the water.
Waterproof Rain Jacket: Optional and available for daily rent from the guide service shack.
Sunscreen: Available at the guide service shack.
Insect Repellant: Available at the guide service shack.
Reusable Water Bottle: Our elevation is over 8,000' above sea level! It is important to be altitude aware, and stay hydrated. The most important precaution against altitude sickness is drinking plenty of water before and during your trip. Also be patient with your body's energy levels as it acclimates to the altitude. Join our effort to help curb the excessive use of single use plastic bottles: www.kickplastic.org.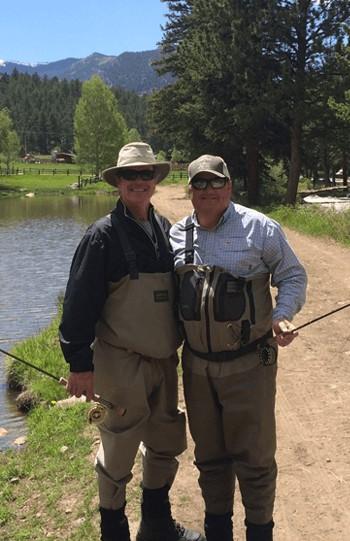 Clothing Checklist
--
Warm Socks: Water temperatures along the North Fork average in the 40s and 50s all year round. Even in the summer, water temperatures are in the low 50's. It's common for guides to wear wool socks even when wearing shorts under waders.
Buff Or Bandana: Serves for sun protection as well as mosquito protection.
General Attire: No special attire is required at meal service in Wildhorse Lodge or anywhere at the North Fork Ranch. Some guests will be in khakis and a button-down shirt while others will be in jeans and a fishing shirt while others will be in shorts and a T-shirt. Just bear in mind that evening temperatures drop significantly at elevation!
Fishing Attire, Summer: Most days from mid-May into September, lightweight fishing pants and a lightweight fishing shirt are appropriate. Bring extra layers (a fleece and a light jacket) for cooler mornings. In summer months, shorts under waders are appropriate.
Fishing Attire, Spring & Fall: On cooler days in the early spring and late fall plan for jeans and bring some additional base layers. Bring more layers than you think you will need. On top we recommend a base layer, a fishing shirt or flannel shirt, a fleece layer and a jacket. Prepare for a cold morning but be ready to take off layers as temperatures can rise by as much as 40 degrees over the course of the day.
Fishing Attire, Winter: In the winter, plan like you would for hunting and for skiing. Always bring more layers than you think you will need. Thick wool socks and possibly a liner sock will keep your feet warm. On bottom a base layer and fleece-lined fishing pants or even jeans will do. On top a base layer with a long sleeve shirt and a fleece and a good jacket are essential. Bring extra base layers for top and bottom as well as another fleece layer or a vest. Bring a full winter hat that covers the ears as well as a neck gator or buff and bring gloves (we do have fishing gloves in the guide service shack for use for the day).
Mosquito Protection: Mosquitos are only a concern in June, July and August. There are not many mosquitoes at the North Fork properties but it is still important to protect yourself with bug spray during these months. If you are fishing Tarryall Land & Cattle or Santa Maria Ranch in June or July it is important to be extra prepared with a lightweight long sleeve shirt, a buff/bandana & light gloves. Buffs are available for purchase at the Trading Post at North Fork Ranch and gloves are available from the guide service shack to use for the day.
Off-Property Fly Fishing Checklist
--
If you're planning to fish on your own while staying at the North Fork Ranch, here is a list of the items you will want to bring with you that are not included in the equipment list above. Note: North Fork Ranch is only available by reservation and with an authorized fly fishing guide. You are not allowed to fish the river at North Fork Ranch on your own.
Waders & Boots: Breathable chest high or waist high waders with layers for underneath are recommended. Felt-soled wading boots are allowed in Colorado. Rubber-soled boots work well in the sediment laden river bottoms but in the rocky sections of the South Platte adding studs is recommended.
Rods & Reels: A 9 foot 5 weight rod with floating line is most versatile. For fishing the smaller creeks, 3-4 weight rods are appropriate. And for streamer fishing even a 6 weight is appropriate. This is the only scenario a sink tip line would be beneficial.
Leaders & Tippet: A 9 foot 4x leader will be most versatile. For smaller creeks, fishing a 7.5 foot leader with 3x or 4x tippet is appropriate. For tailwater fishing, we recommend a 9-12 foot leader with 5x or 6x tippet. And for streamer fishing, a 7.5-9 foot leader with 0x tippet is appropriate.
Fishing Pack: Fishing vest, fishing pack & chest packs are all appropriate in Colorado. Be sure to include dry fly floatant (liquid for first application and powder for once it starts to sink), weight (split shot for most instances but putty weight for pickier fish), indicators, nippers, hemostats/forceps & landing net.
Flies: Here is a general list of flies that are common to the South Platte River drainage. Please contact us for more specific flies appropriate for the location(s) you plan to fish:

Dorsey's mercury bead black beauty (#22-20)
Jujubee midge (#22-20)
Garcia's rojo midge (#20 black or red)
Zebra midge (#22-18 black or red)
Tungsten flashback pheasant tail (#18-14)
Dorsey's mercury bead pheasant tail (#18-16 natural or red)
Sparkle wing RS-2 (#22-18)
Buckskin (#20-18)
Mayer's Mini leech (#16)
San Juan worm (#16-14)
Egg imitation (#18-16 orange or pink, according to time of year and location)
Questions? Contact Us At North Fork Ranch Guide Service
Fishing questions can be directed to the guide service:
Email us at info@nfrgs.com or call 303-478-1349.
Lodging questions and questions not related to fishing can be directed to the office at North Fork Ranch:
Email us at info@northforkranch.com or call 303-838-9873.