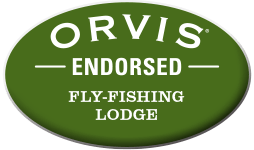 TESTIMONIALS: CLIENT STORIES WITH NORTH FORK RANCH GUIDE SERVICE
North Fork Ranch Guide Services strives to provide the very best guided fly fishing experience in Colorado. And some of our customers have shared their stories of how we've delivered just that! Read some reviews of the fishing, lodging and accommodations at North Fork Ranch below. We think you'll agree: the North Fork Ranch is the premier destination for the best fly fishing Colorado has to offer.
★★★★★

North Fork Ranch is an excellent operation with an amazing staff! It all started with excellent communication from Jeff who was timely and accommodating to all our request and needs prior to the trip. Our group of 3 visited the ranch on Dec 4th. We had three anglers, all of different abilities, and everyone had an outstanding time. The guides were great, food was great, the weather was perfect and fishing was awesome! If you are looking for a 1st class fishing experience this is the place to go!

JDSANGLER
★★★★★

Jeff Poole once again gave us an amazing day at North Fork Ranch. From the 2nd cast to the final cast we were on fish the entire morning. I have been fly fishing with Jeff for almost 10 years and still learn something new every time we hit the water.

Thanks again for taking care of me and my guests.

dcass97
★★★★★

We had a terrific half day at North Fork Ranch. Tim was one of the best guides I have had in 30 years of fly fishing. He was able to help a beginner while putting all of us on good "honey holes" all day. Will definitely be back. Thank you Tim!

Anonymous
★★★★★

We fish often with Jeff Poole, head guide of North Fork Ranch Guides and have stayed at the lodge. We live close to the lodge so we don't always stay. The lodge is great, with fabulous owners. The guides are exceptional and Jeff is one of the best guides we have used. Patient, focused on education and taking care of the client and the fish and the river

Mike N2
★★★★★

This was probably my 5th time fishing with guides from North Fork Ranch. We had an incredible day of fishing and our group was all smiles all day. The guides are patient, knowledgeable and fun. I highly recommend spending a day with these guys as you won't be disappointed, no matter your skill set.

areutter
★★★★★

We had an awesome time fishing with Tim. This was our second time at North Fork Ranch and the first time fishing with them. 10 out of 10 would do it again.

Bartlett Family
About North Fork Ranch Guide Service
The North Fork Ranch is a lodge and guide service situated on private, exclusive lands and home to some of the very best fly fishing tailwater in Colorado. Our friendly, knowledgeable and experienced Orvis-endorsed guides will help you get to know the local water and have the most successful day of fishing you've ever had. When you visit, you can travel light! Borrow all the gear you need from our guide service. And stay at our inviting lodge where a delicious meal and a beautiful riverside view will have you relaxing in no time. We can even arrange other activities like hiking and hunting and enjoy even more adventures in the scenic Colorado outdoors. Experience fly fishing elevated at North Fork Ranch.
We're located just a short drive from downtown Denver. Fishing questions can be directed to the guide service: Email us at info@nfrgs.com or call 303-478-1349.
Lodging questions and questions not related to fishing can be directed to the office at North Fork Ranch: Email us at info@northforkranch.com or call 303-838-9873.