Winter: When flows allow, Winter fly fishing on the North Fork Ranch is nothing short of picturesque solitude. Snow-tipped pines and crisp air combined with far fewer visitors than our peak lodging months make it feel almost as though you are fly fishing in your own personal snow globe! Outflow from the Roberts Tunnel helps prevent ice buildup and keeps water temps consistent, meaning the fish are hungry even on the coldest Winter days. Fish are often keyed into small nymphs such as midges and BWO's, and trailing these patterns behind a larger attractor nymph is the most likely plan of attack. Low flows and clear water make for prime sight fishing conditions, providing a great challenge for anglers who want to "pick a target." The North Fork Valley is lucky to receive plenty of sunny days during the Winter months, with temperatures averaging in the mid-40's. Winter fly fishing trips at North Fork Ranch generally run as 10am-2pm half day trips, allowing the fish (and you!) to warm up and become active before heading out.
Spring: As the days get longer and the banks begin to green, Spring fly fishing really heats up at the North Fork Ranch. Early in the spring, low water allows for great sight fishing. Flows generally start to rise once the weather warms in the middle of April. Runoff varies year to year, but generally occurs sometime in May. Extensive habitat improvements have been conducted at North Fork Ranch to ensure the fish have ample holding water in all conditions, meaning the fly fishing stays good in even the highest runoff years. During this time, guides often utilize bigger, gaudier patterns that fish can seek out amongst the higher water. Off-color water also allows anglers to up-size their tippet and leader, which feels like a true blessing when you hook a monster!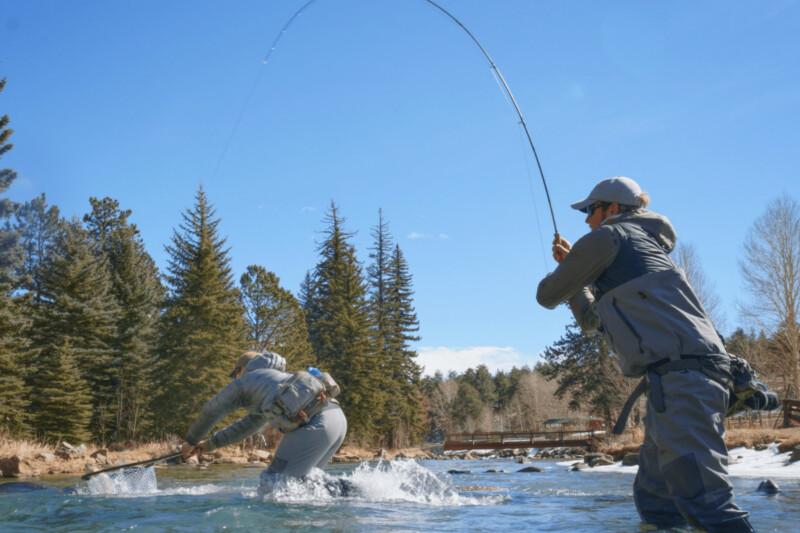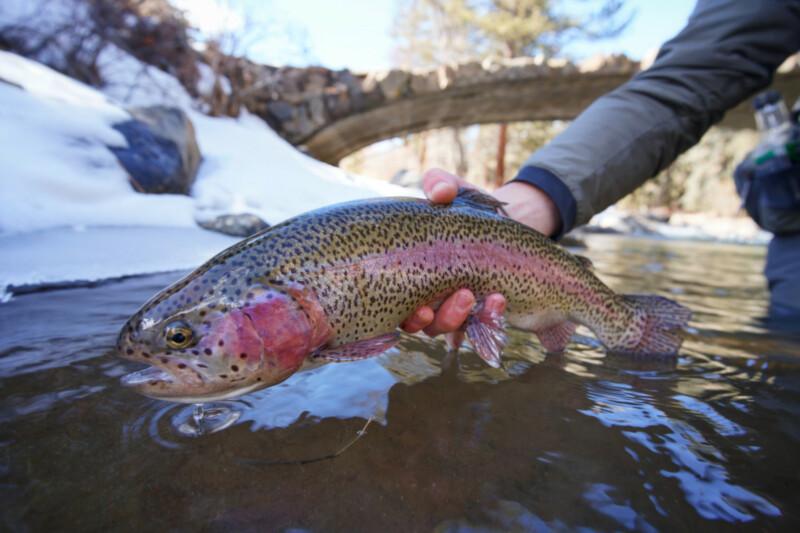 Summer: Words really can't do justice to fly fishing North Fork Ranch during the Summer season. Summer historically offers the most consistent flows, comfortable weather, and hungry fish! Morning temps usually start in the low 60's and quickly climb to the 70's; North Fork Ranch's secluded valley setting ensures temperatures stay near-perfect all day. Fish in the North Fork are most active this time of year, and anglers can expect to throw a range of both dries and nymphs. The summer menu often includes various mayfly, stonefly, and caddis imitations, as well as terrestrials and plenty of tried-and-true general attractors. One aspect that makes North Fork Ranch unique is its wide variety of fishable summer water; NFR boasts some of the best habitat on the entire North Fork of the South Platte, and you never know which pocket the fish of the day is going to be hiding in. From corporate gatherings, to family weekends, to simply getting out for the best fishing of the year, Summer fly fishing at the North Fork Ranch is truly an unbeatable experience.
Fall: Fly fishing North Fork Ranch in the Fall is an amazing way to experience the Rockies and have a chance at the fish of a lifetime. The reflection of the changing Aspens lining the banks of North Fork Ranch on low, clear water is truly a sight to behold. Crisp mornings quickly give way to beautiful sunny days, so while you might start the day in a jacket, don't be surprised to be fishing in a short sleeve by lunch. Fish are trying to pack on calories before Winter sets in, allowing a little extra 'room for error' when trying to find the perfect drift. Anglers can expect to fish lots of dry-dropper rigs, which suspend nymphs under a less conspicuous dry fly and allow a more subtle presentation in low water, as well as standard nymph rigs in the deeper runs.