Tarryall Land And Cattle Fly Fishing Ranch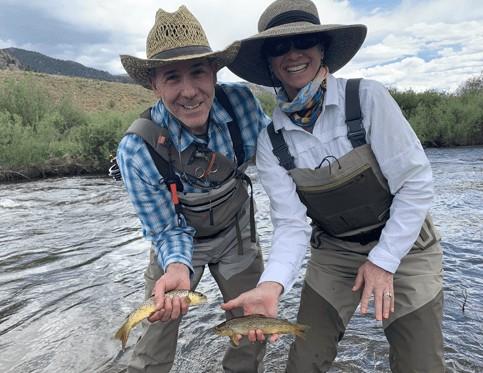 Tarryall River Ranch Guided Fly Fishing Trips with North Fork Ranch Guide Service
North Fork Ranch Guide Service is the exclusive outfitter on Tarryall Land and Cattle Ranch, a 2-mile stretch of the Tarryall Creek tailwater located below Tarryall Reservoir. This gorgeous ranch property boasts not only superb fly fishing conditions and some of the highest fish per mile counts of any small stream, but also breathtaking high alpine scenery and frequent wildlife sightings. Tarryall Land and Cattle Ranch is the perfect property for new fly fishermen hoping to learn rigging and skills that they can use on their local waters at home, or avid anglers who enjoy "matching the hatch" and the prospect of fish rising to dry-fly imitations.
The North Fork Guide Service is proud to offer two types of trips: both half and full day trips. Trip rates can be found below:
Full Day Guide Trip:
1 Angler $625
2 Anglers $875
3 Anglers: $1225
Half Day Guide Trip:
1 Angler $455
2 Anglers $610
3 Anglers: $915
Tarryall Land and Cattle Ranch is the definition of a meadow stream; the river snakes back and forth through a lush hay-meadow surrounded by several looming peaks and stunning rock formations. The riverbanks are lined with willows but largely open along the water, allowing anglers to cast without worry of hanging up in the trees. Wildlife sightings are common, including frequent mule deer, elk, bighorn sheep, foxes, hawks, and eagles.
The Tarryall Creek tailwater itself is a 10-20 foot wide channel emblematic of a classic Colorado trout stream, with ample riffles, runs, pools, and pockets for anglers to work through. Fish on this property are often very willing to eat, and frequent Summer hatches of various aquatic insects make the dry-fly fishing here a sight to behold. Tarryall Land and Cattle Ranch has received several rounds of embankment preservation and erosion control to help maintain the river channel and preserve deep holding water for fish to over-winter and grow to maturity. This section has also taken part in significant habitat restoration and improvement to ensure plenty of places for fish to hide and feed. As the river gets further towards the bottom of the property, it widens and slows considerably- this lower section offers a unique dry-fly and streamer fishery where new and experienced anglers alike can put their casting and drifting skills to the test.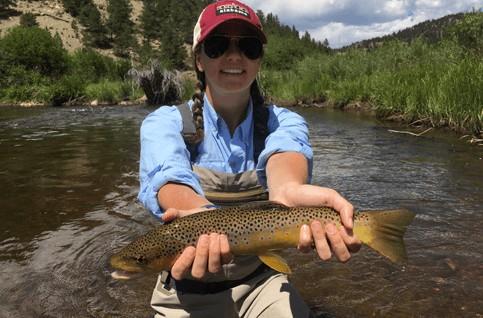 Fishing Tarryall River Ranch
Anglers can expect to find a mix of wild Brown and Rainbow Trout ranging from 8-16 inches, with larger fish coming to hand on occasion. We occasionally also encounter invasive Northern Pike from Tarryall Reservoir- these fish grow to tremendous proportions feeding on the resident trout, and can be targeted with large streamer patterns.