Santa Maria Private Fly Fishing Ranch
Santa Maria Ranch Guided Fly Fishing Trips with North Fork Ranch Guide Service
Situated just outside of Hartsel, CO, Santa Maria Fly Fishing Ranch offers guests of North Fork Ranch Guide Service exclusive access to 1.5 miles of some of the best water in the entire South Platte River. This historic working ranch property dates to 1874, two years before Colorado gained statehood, and the original ranch buildings make a stunning backdrop amongst wide-open valley skies while pursuing big trout. In 2006, extensive stream restoration was conducted on the property that resulted in a wide variety of new fish holding structures and riffles. Fly fishing at Santa Maria Ranch feels like stepping back 100 years in time; as one angler put it simply, "it's how fly fishing should be!"
Arriving for the day, guests will first catch a glimpse of the property while driving the hilltop down to the Ranch entrance. Pronghorn antelope, elk, and mule deer are common sightings at Santa Maria, as well as a free-ranging herd of buffalo (bison) on the neighboring State Wildlife Area. Santa Maria Ranch has been accepted into the National Register of Historic Places, making the property not only a premier fishing destination, but an integral piece of Colorado history as well.
Santa Maria Ranch Guided Fly Fishing Trips are offered at the rates below: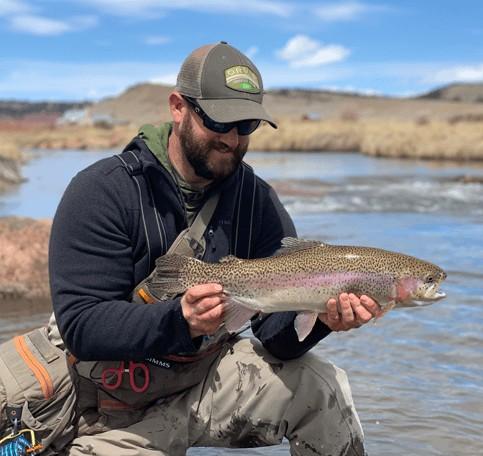 Full Day Guide Trip:
1 Angler $625
2 Anglers $875
3 Anglers: $1225
Half Day Guide Trip:
1 Angler $455
2 Anglers $610
3 Anglers: $915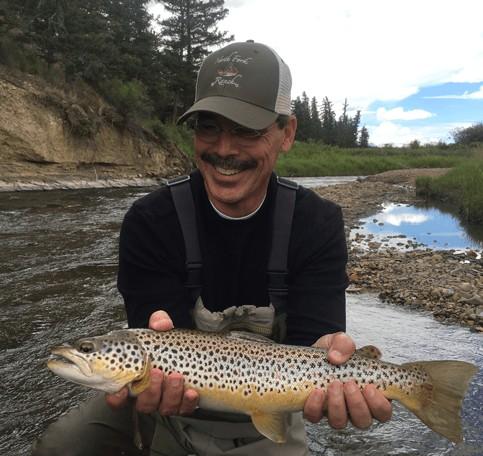 The lower half-mile of Santa Maria Ranch meanders through tall grass, providing an open setting for anglers to shore up their casting abilities at the start of the day. Several deep runs in the lower section hold numbers of sizeable fish season-round, while numerous undercuts and pockets make great places for fish to ambush surface flies and terrestrials during the summer months. The upper section of Santa Maria cuts along a series of rock bluffs, offering a wide variety of riffles and runs that are perfect for various fly fishing techniques including dry flies, dry-dropper rigs, and streamers. Experienced anglers will have a ball casting to large, actively rising Browns and Rainbows, while newer anglers can target pods of fish in some of the deeper runs for ample opportunities to catch more than a few.
Fishing Santa Maria Ranch
Anglers fly fishing on Santa Maria Ranch can expect to find a healthy mix of wild Brown and Rainbow Trout ranging from 8-16 inches, with larger fish up to 22 inches not uncommon. Fish numbers on this stretch are astounding; in fact, Colorado Parks and Wildlife has noted this section of stream holds "more trout biomass per mile of stream than any other river in Colorado." Santa Maria Ranch also experiences a run of Brown Trout coming up from Spinney Mountain Reservoir each Summer and Fall- these Browns grow to epic proportions (18-26+ inches) and pull like a freight train when hooked!