Abell River Ranch Guided Fly Fishing Trips with North Fork Ranch Guide Service
Located in the town of Lake George, CO, Abell River Ranch offers anglers private access to over 3 miles of the famed South Platte River, arguably the West's most well-renowned trout fishing. Abell River Ranch is situated between the popular Elevenmile Canyon and Cheesman Canyon tailwaters, making this section some of the best trout habitat available. As one of just a few exclusive outfitters permitted to guide on Abell River Ranch, North Fork Ranch Guide Service offers guests the opportunity to experience this unique stretch free from the heavy pressure from other fishermen that the South Platte is known for.
Anglers arriving to Abell River Ranch will find the river nestled amongst rolling hills and surrounded by Ponderosa Pine lined mountains. Open banks along the river make for easy access and great casting opportunities free from trees and other potential line hang-ups. Wildlife sightings on Abell River Ranch happen more often than not, and include bighorn sheep, elk, mule deer, and frequent flyovers from both Bald and Golden eagles.
Offered in both a Half-Day and Full-Day Guided Trip format, the Abell River Ranch Guided Fly Fishing Trips are an extremely popular place to find an elusive Brown Trout or ravenous Rainbow Trout. Find Pricing for these trips below:
FULL DAY GUIDE TRIP:
1 Angler $875
2 Anglers $975
3 Anglers: $1375
Half Day Guide Trip:
1 Angler $750
2 Anglers $800
3 Anglers: $1200
Abell River Ranch is split into three, 1-mile long beats, each of which has more fishable water than could ever be explored in a day. As recently as 2022, an immense amount of stream improvements and habitat restoration have been conducted on the Abell River Ranch property to help mitigate bank erosion and maximize the amount of holding water for fish. This stream work combined with Abell's high aquatic insect biomass has translated into some unbelievable fishing opportunities. Abell River Ranch benefits from some of the most dense insect hatches we've come across anywhere, and this stretch is a dry-fly fisherman's paradise when conditions are right. The large Brown and Rainbow trout that frequent Abell River Ranch are notoriously wary, testing the wits of novice and experienced anglers alike. There's nothing more rewarding here than working together with your guide to adjust your setup, casting, drift, and techniques until you finally see a big nose break the surface and realize you've fooled the fish of the day!
Browns and Rainbows 8-16 inches are the most frequent catch at Abell River Ranch, although larger fish 18-22 inches are not uncommon and fish as large as 26 inches have been caught on the property. The larger Brown Trout tend to lurk beneath grassy undercut banks where they can effectively ambush terrestrials falling off the bank and smaller baitfish passing by. Meanwhile, the larger Rainbows tend to reside in the deeper runs where they can be targeted by anglers using nymph rigs and streamers. All in all, Abell River Ranch is truly a fly fisherman's paradise!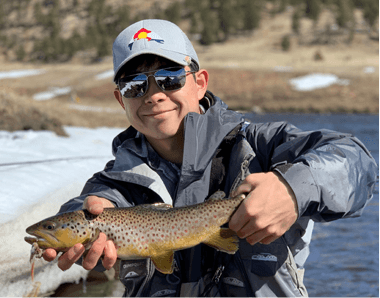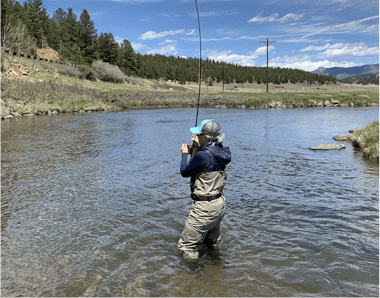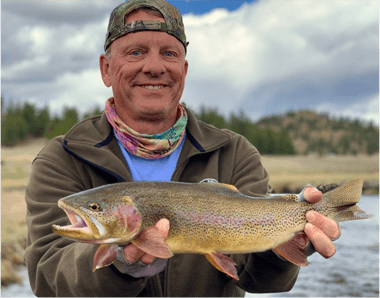 Fishing Abell River Ranch
The entire South Platte River is prized by locals and visitors alike for world-class fly fishing, exemplified by the gold medal qualification (the highest such honor) that the river holds. At Abel River Ranch, the meandering pace of the river means you'll have plenty of opportunities to catch large brown or rainbow trout with reported populations above 1,000 fish per mile! This ranch is also a diverse environment with habitats for all sorts of bug hatches, so you're sure to have success with a wide variety of flies. Your North Fork Ranch guide will provide the expertise you need to tune your rig to the river's conditions so you can enjoy a memorable day of fishing.
READY TO BOOK YOUR TRIP? REACH OUT TO US TODAY!