Experience Private Water Fly Fishing At Abell River Ranch In Lake George, Colorado: Guided By North Fork Ranch
Fly fishing public lands in Colorado often means fighting with crowds over parking and competing for the best fishing. The team at North Fork Ranch Guide Service would like to bring you to exclusive, private waters at Abell River Ranch for a fly fishing experience that's second to none. This ranch includes the single longest contiguous stretch of the South Platte River where you can enjoy some of the best fly fishing Colorado has to offer. It's also a great place to get away from the crowds for a serene day on the water.
Full Day Guide Trip:
1 Angler $600
2 Anglers $850
3 Anglers: $1200
Half Day Guide Trip:
1 Angler $480
2 Anglers $695
3 Anglers: $1030
Since the land's sale in 2019, river access has been improved and the impacts of overgrazing from cattle herds mitigated. With even more fishery restoration on the way, the Abell River Ranch is sure to be among anglers' very favorite waters for years to come.
But fish aren't the only wildlife you're likely to encounter! Deer, elk, antelope, coyote, fox, bobcat, mountain lion and even black bear are known to call this valley home. Not to mention the proclivity of hawks and golden eagles to soar overhead. Between the stunning views, epic wildlife and superb fishing conditions, the Abell River Ranch is one of Colorado's premier fly fishing destinations.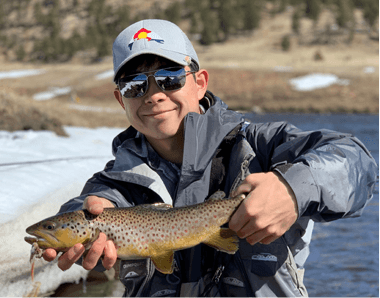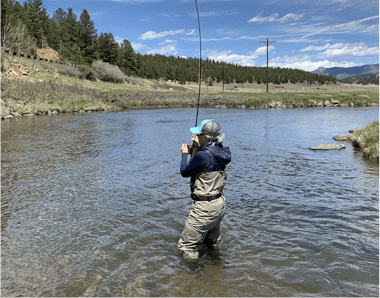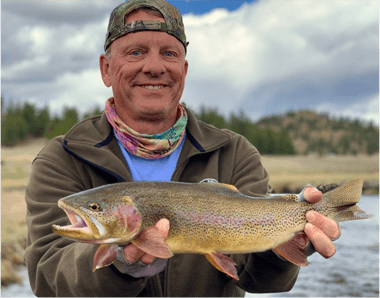 What's The Fishing Like At Abell River Ranch?
The entire South Platte River is prized by locals and visitors alike for world-class fly fishing. At Abel River Ranch, the meandering pace of the river means you'll have plenty of opportunities to catch large brown trout with reported populations above 1,000 fish per mile! This ranch is also a diverse environment with habitats for all sorts of hatches, so you're sure to have success with a wide variety of flies. Your North Fork Ranch guide will provide the expertise you need to attune your rig to the day's conditions and the current stretch of water so you can enjoy a successful day of fishing worth remembering.
Ready to book your trip? Get in Touch!