FLY FISHING CLINICS, CLASSES, & SCHOOLS WITH NORTH FORK RANCH GUIDE SERVICE
FLY FISHING 301 INSTRUCTION CLASSES
Our Fly Fishing 301 Instruction Classes through North Fork Ranch Guide Service are designed to help you locate fish by learning to "read" a stretch of water. Here at North Fork Ranch Guide Service we recognize the importance of having the ability to not only cast accurately, but knowing how to fly fish well. This 301 Instruction Class is geared towards helping anglers avoid small fly fishing mistakes we all tend to make when approaching a stream, reading water, or looking for the next pocket of water to cast towards. If you're looking to take your fly fishing expertise to the next level, our Fly Fishing 301 Instruction Classes are perfect for you! Be sure to reach out and get more information and Reserve your spot Today! Availability limited!
ADVANCED FLY FISHING SCHOOL
Our Advanced Fly Fishing School through North Fork Ranch Guide service is a four day all-inclusive fly fishing school aimed at taking the casting techniques learned on land and implementing them on the river. Day one consists of thorough fly fishing casting clinic instruction from an expert fly fishing guide. All guides/instructors are Orvis-endorsed. Day two consists of instruction on how to approach a river, how to read water, and where trout may be hiding. Day three consists of getting on the water on our famous dry-fly section. Dry-fly fishing requires delicate presentation and therefore this slow-moving stretch of water is ideal for practicing the casting techniques from the previous two days. Day four is when everything comes together and we take the students out to the river. This is where all the work, practice, and preparation becomes reality and students are able to see their hard work pay off.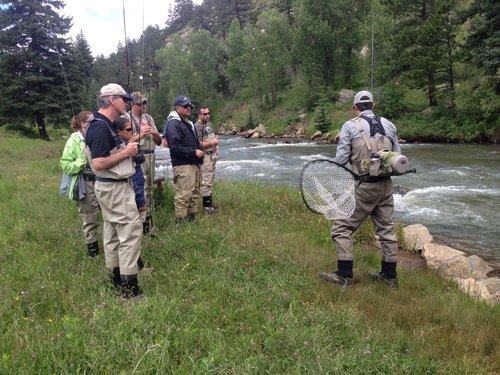 NEW TO FLY FISHING? TRY OUR FLY FISHING CASTING CLINICS
Designed specifically to help introduce basic fly fishing casting techniques, our Fly Fishing Casting Clinics are a great way to improve your cast. Led by our expert fly fishing guide team, these classes walk you through every aspect of your cast. Our pros will watch and work to critique your casting in order to help you cast further and more accurately. Here at North Fork Ranch Guide Service we're proud to offer a diverse selection of clinics, classes, and schools to match any anglers skill level. Our Fly Fishing Casting Clinics are a great place to start when working your way up to our four day Advanced Fly Fishing School. Interested in signing up for your first Fly Fishing Casting Clinic? Reach out to us Today for more information and to reserve your spot!
Fly Fishing Casting Clinics Led by an Orvis- Endorsed Guide
Clinics Offered at the North Fork Ranch
Clinics are Private to Your Group
One Person: Fly Fishing Casting Clinic - $275
Two or More Person: Fly Fishing Casting Clinic $175/ Per Person