Fly Fishing Classes at the North Fork Ranch
Fly Fishing for Beginners
The North Fork Ranch Guide service offers the best opportunity for a fly fishing class near Denver. Our Fly Fishing Clinic is taught by Orvis endorsed fly fishing guide instructors with year of experience as fly fishing guides as well as fly fishing class instructors.
Advanced Fly Fishing Classes by Orvis
The Orvis Company Stores in Denver (Cherry Creek, Park Meadows & Boulder) host advanced fly fishing classes at the North Fork Ranch. A full day class that includes the opportunity to use what you learned by practicing fly fishing on the river at the ranch.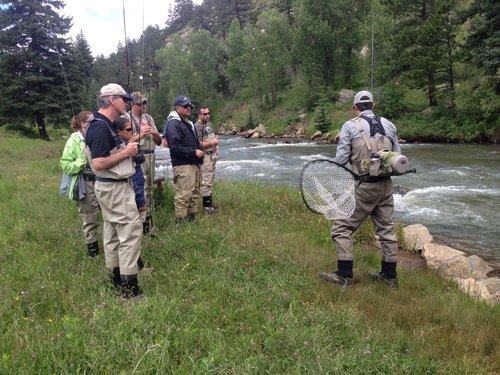 New to Fly Fishing? Try Our Fly Fishing Clinic
Designed as your first introduction to fly fishing. A fly fishing clinic has a similar format to an Orvis 101 fly fishing class. It is designed to give you an understanding of everything you will need to know about fly fishing. An introduction. We begin with a classroom introduction to everything from trout to entomology, reading water to learning knots. You will then convene on the lawn to learn how to cast. Followed by learning how to rig a fly rod. Finishing the clinic on the North Fork Ranch pond where you get to fish and practice various techniques.
Four hour classes offered in the morning or afternoon.
Clinics offered at the North Fork Ranch.
Clinics are private to your group.
Cost for a private 1 person clinic is $275.
Cost for a private 2 or more person clinic is $175 per person.