FLY FISHING CLINICS, CLASSES, & SCHOOLS WITH NORTH FORK RANCH GUIDE SERVICE
At North Fork Ranch Guide Service, we strive to ensure you'll walk away from your fly fishing outing with more than just photos and memories- we want you to gain fly fishing skills that will benefit you for the rest of your fly fishing journey. While all of our guided trips offer an educational component and help guests develop their skills, we also offer a variety of classes specifically tailored to anglers who want to take a deep-dive into subjects like casting, knots and rigging, entomology, reading water, and more.
TYPES OF CLASSES
101 (Beginner) Clinics
North Fork Ranch Guide Service Beginner's Clinics are designed to help new and prospective fly fishermen and fisherwomen learn the basics necessary to get out and find success fly fishing on their own. This 4-hour, crash course style class includes a classroom portion, casting lesson, and skills practice on the North Fork Ranch stocked pond.
301 (Advanced) Classes
The 301 Class is a comprehensive fly-fishing masterclass designed to help you "think like a guide" and find success in a variety of environments on the water. This class is customized to accommodate student's previous experience and knowledge, making it a great choice for beginner and expert anglers alike. The 301 Class is a full-day course including extensive lessons on casting, gear selection, rigging, entomology and fly selection, reading water, setting up a drift, fighting, landing, and releasing fish, and more. The class includes an extended classroom session, advanced fly casting lesson, riverwalk and discussion, gear overview and setup, and skills practice on both the North Fork Ranch stocked pond and the North Fork of the South Platte River.
Advanced Fly Fishing School
The North Fork Ranch Guide Service's multi-day Advanced Fly Fishing School is a one-of-a-kind educational program designed to help new, beginner, and intermediate anglers immerse themselves in fly fishing knowledge and develop all the skills necessary to enjoy a lifetime of success on the water. This private, fully-customized, 3-4 day course is tailored to fit students' previous experience (if any) and ensure their learning goals are met, whatever those goals may be. The Advanced Fly Fishing School includes classroom, riverside, and on-water instruction as well as multiple education-focused guided trips for students to hone their skills under the eye of a professional instructor. This course can be taken in one multi-day session or broken up across several single-day sessions. Reach out to learn more about this unique educational experience that is undoubtedly the best way to learn all thing fly fishing!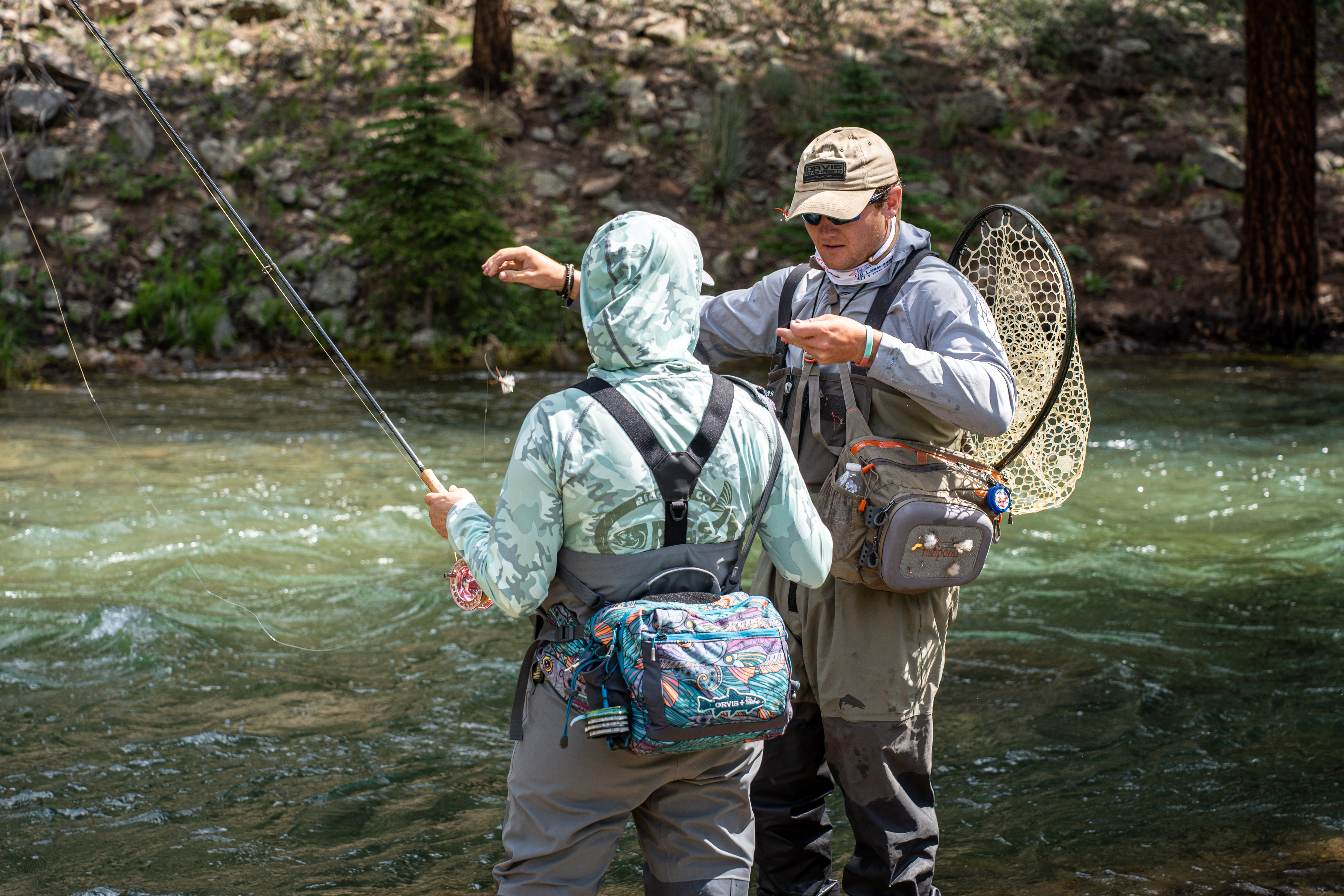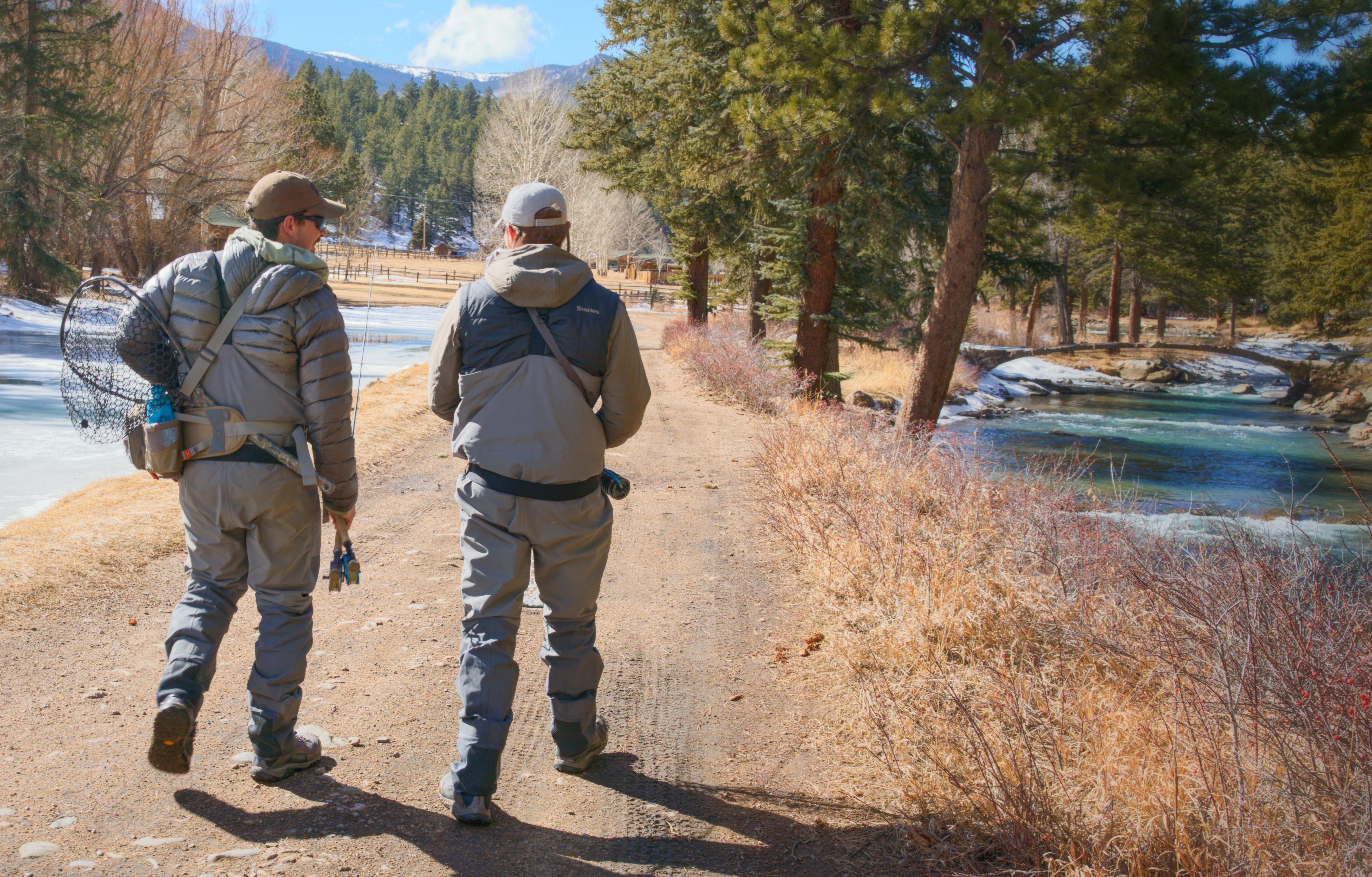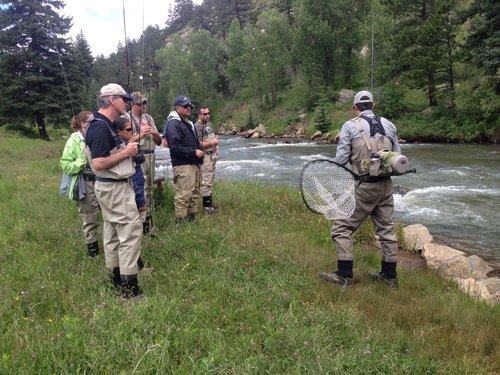 GUIDED TRIPS VS CLINICS AND CLASSES
| | |
| --- | --- |
| Guided Fly Fishing Trip | Fly Fishing Class/Clinic |
| On-The Water Instruction | Classroom, Casting Lesson, and Skills Practice |
| Emphasis on Going Fishing | Emphasis on Education |
| Exclusive to Your Group | (101) May be  Paired with Other Group |
| Full Day Trip Includes Lunch | 101 Lunch Not Included, 301 Included |
| Lots of Fish Catching | Learn Skills to Catch Fish on Your Own |
| Fully Customizable | Flexible with Set Curriculum |
| Numerous Properties to Choose From | On-Site at the North Fork Ranch |