Palomino Rainbow Trout Information
Palomino Rainbow Trout
Colorado is internationally acclaimed for its awe-inspiring landscapes, majestic mountain ranges, and untouched alpine rivers. Hidden within these transparent waters thrives a coveted gem cherished by passionate fly fishing enthusiasts – the Palomino Rainbow Trout. Adorned with glistening golden scales and known for its spirited resistance, this illustrious species symbolizes the captivating charm and allure of Colorado's unparalleled fly fishing encounters.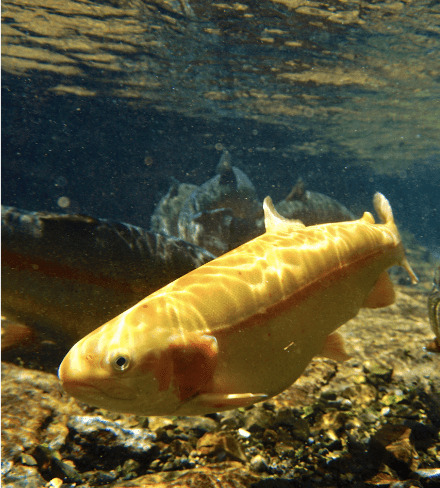 Origins and Habitat
The Palomino Rainbow Trout is a captivating variation of the common Rainbow Trout, distinguished by its stunning golden coloration. The fish gets its name from the Palomino horse, famous for its lustrous golden coat. The Palomino Rainbow Trout possesses a similar captivating radiance, making it a coveted species among anglers. The Palomino Rainbow Trout is not a naturally occurring species but is bred through selective breeding. The striking golden color is a result of genetic traits passed down from their ancestors. These beautiful fish thrive in Colorado's diverse aquatic ecosystems, including rivers, streams, and high-altitude lakes. They are most commonly found in rivers such as the Arkansas River, Roaring Fork River, and Colorado River, which offer ideal conditions for their growth and reproduction.
Colorado offers an unmatched fly fishing experience, and the pursuit of Palomino Rainbow Trout adds a touch of golden allure to this already captivating endeavor. The state's abundant rivers and high-altitude lakes provide a diverse range of fishing opportunities for anglers seeking the thrill of the chase. Fly fishing in Colorado allows anglers to immerse themselves in the serene beauty of nature, casting their lines against the backdrop of snow-capped peaks and vibrant wildflowers. The thrill of hooking into a Palomino Rainbow Trout amidst rushing river currents or tranquil alpine lakes is a memory that will be cherished forever.
Colorado Rivers and Lakes for Palomino Trout Fishing:
Clear Creek Reservoir- Nestled in the mountains near Buena Vista, Clear Creek Reservoir offers excellent opportunities for catching Palomino rainbow trout. The reservoir's crystal-clear waters and picturesque surroundings make it a favorite spot among anglers.
Taylor River - Known for its breathtaking beauty and exceptional fishing opportunities, the Taylor River is a prime location for Palomino trout enthusiasts. Located near Almont, this river is famous for its healthy population of Palominos.
Trappers Lake- Surrounded by the stunning White River National Forest, Trappers Lake is a hidden gem for anglers seeking Palomino trout. The lake's serene ambiance and untouched natural beauty provide a tranquil fishing experience.
North Delaney Butte Lake - Situated in the picturesque North Park region, North Delaney Butte Lake is renowned for its thriving Palomino rainbow trout population. Anglers flock to this lake to test their skills and enjoy the breathtaking mountain scenery.
Palomino rainbow trout are an alluring and captivating species in the picturesque state of Colorado. Their distinct golden coloration, coupled with their elusive and mysterious behavior, make them a truly exhilarating catch for passionate fishing enthusiasts. With their preferred habitat encompassing the serene rivers and pristine lakes of Colorado, anglers are bestowed with an abundance of extraordinary and premier locations to target these awe-inspiring and magnificent fish.