Lunches at North Fork Ranch
Discover the Best Fly Fishing Guide Trip Lunch Anywhere
The North Fork Ranch staff takes great pride in feeding you well! Exceptional family dining with a gourmet flair is sure to satisfy every appetite. They offer full, hearty breakfasts, unique lunches, and dinners that are anything but typical!
THE LUNCH MENU ROTATES BETWEEN
soups and sandwiches (most common)
Mexican food buffet
wood fire grilled
burgers and bratwurst
fried chicken and biscuits
Fishing was great, but I did not come today for the fishing, I really came for this lunch!

Frequently commented by many of our regulars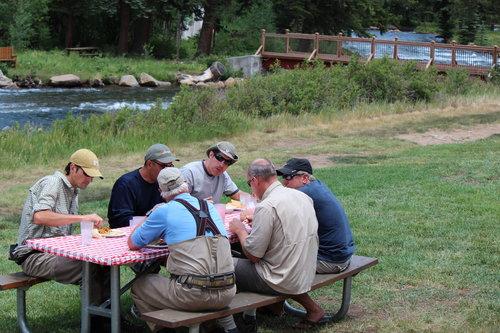 On any private water guide trip with the North Fork Ranch Guide Service the catered lunch is a central part of the day. Typically served in Wildhorse Lodge, or, weather permitting, served outside off the back porch right next to the river. The menu changes daily, the the one commonality is, there is never any shortage of food. And ALWAYS save room for desert!